From working in the IT industry for 30 years to accelerating the transformation of digital businesses, Robert's intelligence and passion showed the way for many IT businesses to succeed. Get a glimpse of the entire story in the words of Robert Giezen - the Founder and CEO of Global BrainForce.
Global BrainForce is an Amsterdam-based software development company established in 2012 by Robert Giezen to accelerate the advent of remote software development teams to serve a huge number of IT businesses across the world.
To  date, Global BrainForce has successfully served over 300+ clients so far. The team Global BrainForce today comprises over 100+ experts on board and retains 8,000+ specialists in our team worldwide. Globally recognized service standards, the best team of software developers, and positive synergies between their team members' personal and professional lives is the company's forte.
In an interview with GoodFirms, Robert Giezen, the CEO of Global BrainForce, shares how he envisioned and initiated the company and played his role towards spreading the best of the IT deals worldwide.
Roberts starts the interview by sharing about his 30 years of experience in the information technology and software space. He said he didn't ever like to become a part of the compromising environment while working in remote teams; hence, developed an amazing solution in the form of Global BrainForce. He always liked to prove that there is great global top talent, with more commitment, good retention rates, and better scalability when you work with a qualified and experienced global remote software development team.
He started Global BrainForce concentrating on a staff augmentation model that gives his clients full control over recruitment of software developers that ultimately behave like full-time employees to the clients.
Robert shared that they have selected Philippines as their main operational location, as it comprises a wide range of highly trained IT professionals of the country along with facilitating the ease of communication. As Robert is quite close to the Philippines due to the distinctive competitive advantage of the region over other outsourcing destinations, his English language proficiency helped a lot as the primary medium of communication to explore more deals in the country. 
Regarding customer retention, Robert claims that the customer satisfaction rate in the company is very high. They are flexible in collaboration and see their clients as their partners. "We provide experienced staff and our employees' attrition rate is lower than 4.5%. We assist the client with our software development process management experience," as he adds.
The reviews displayed below are the proof of their exceptional service and excellent support system facilitated to their clients.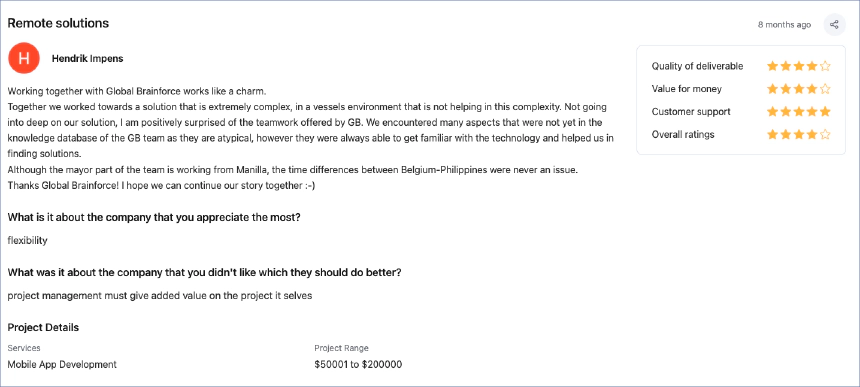 Robert asserts that their clients stay with them for years. Most of their clients are technology companies, but they also work for other industries. Software development teams, software developer staff augmentation, software development process automation, software testing, and IT relocation are a few of the services for which their clients approach them the most. They are ranked among the top software development companies in Amsterdam and assure they meet the needs of their clients to the best of their abilities.
Global BrainForce provides all types of full-time support to its employees and payment is charged as per a specific rate per hours worked. The company charges around 3,000 to 4,000 USD on average per month for a normal project.   Regarding the future of the company, Roberts clearly admits that the focus of the company today and forever will remain the same as it was 10 years back. He concludes the interview saying, "We will continue to accelerate the advent of remote software development teams by finding and retaining the best possible, flexible, and quality software development teams globally."
The detailed interview can be glanced at the GoodFirms company page.
About GoodFirms

Washington, D.C.-based GoodFirms is a maverick B2B research and reviews firm that aligns its efforts in finding web development and web design service agencies delivering unparalleled services to its clients. GoodFirms' extensive research process ranks the companies, boosts their online reputation, and helps service seekers pick the right technology partner that meets their business needs.
About the Author

Prepared by Anna Stark, a Content Writer at GoodFirms, who bridges the gap between service seekers and service providers. Anna's dominant role lingers to form every company's achievement and critical attributes into words. She strongly believes in the charm of words and equips new approaches that work, always with concepts.